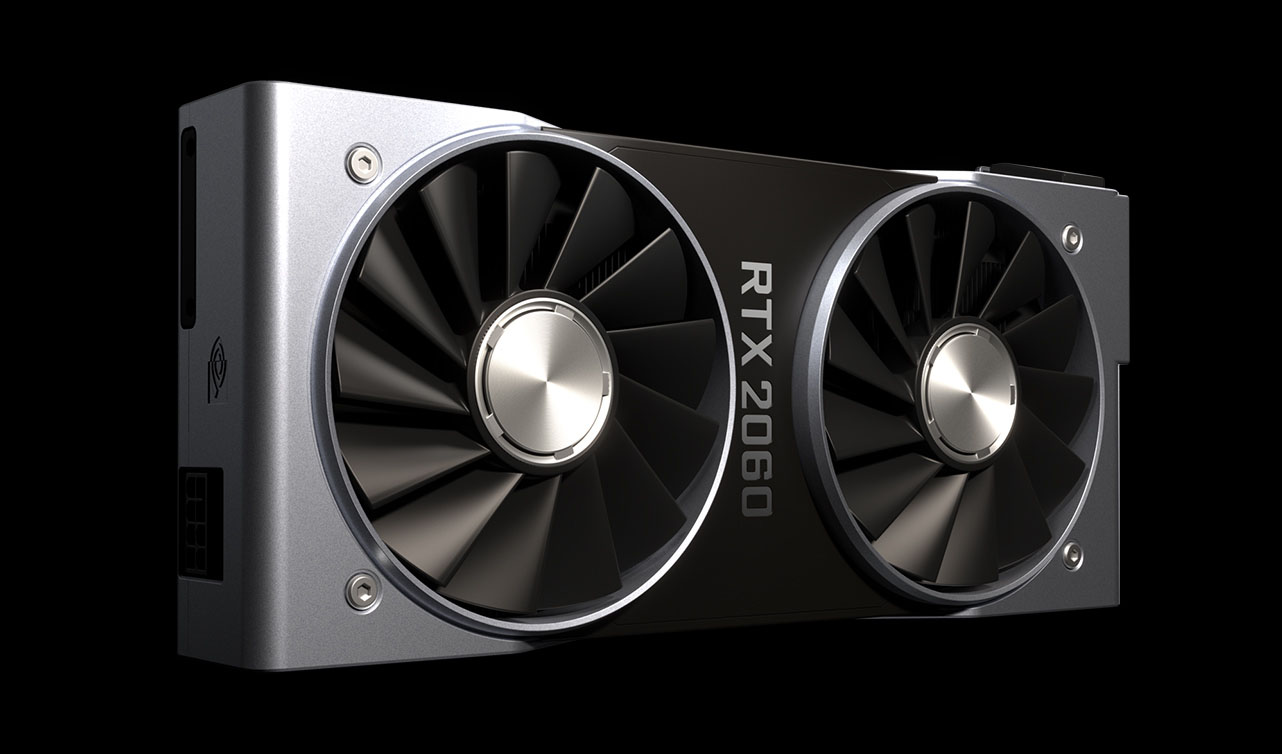 Di gelaran CES 2019 kemarin nvidia secara resmi merilis kartu grafis seri RTX terbaru mereka yaitu nvidia RTX 2060. Kartu grafis ini dilengkapi dengan arsitektur baru yaitu turing dan litografi baru yaitu 12 nm. FYI saja, GTX 1060 yang notabene adalah pendahulunya menggunakan arsitektur pascal dan litografi 16nm yang membuat nvidia RTX 2060 mengalami peningkatan yang signifikan dibandingkan pendahulunya. Memory yang digunakan pun sudah bukan GDDDR5 seperti pendahulunya namun sudah menggunakan GDDR6. Secara garis besar nvidia RTX 2060 ini bisa dibilang mendapatkan major upgrade dibandingkan pendahulunya. Dilansir dari web resminya, nvidia RTX 2060 ini akan dibandrol dengan harga USD 349 untuk versi Founder edition dan dibandrol dengan 2 game yang sudah mendukung teknologi ray tracing dari kartu grafis ini yaitu battlefield V dan Anthem(pilih salah satu). Tapi patut diingat bahwa harga diatas adalah versi Founder Edition dan harga dari web resminya yang berarti kemungkinan jika masuk ke Indonesia harganya bisa lebih mahal.
Dengan berbagai peningkatan tersebut, bisa kita asumsikan bahwa nvidia RTX 2060 ini menjadi rival baru bagi nvidia GTX 1070Ti dan Radeon Vega 56 dipasaran. Mari kita perbandingan beberapa variabel spesifikasi dari ketiga kartu grafis ini
Tabel diatas admin himpun dari web resmi Nvidia dan Amd. Litografi dan arsitektur yang baru memberikan big punch terhadap performa yang diberikan RTX 2060. Dari boost clock, RTX 2060 sedikit dibawah GTX 1070 Ti tapi berada cukup jauh diatas Radeon Vega 56 namun patut di ingat bahwa ini adalah spesifikasi founder edition jadi ada kemungkinan jika vendor yang mengeluarkan, boost clock ini bisa lebih tinggi.
Awal tahun pingin cari keyboard gaming? yuk liat dulu tips memilih keyboard gaming dari kami
Lanjut ke memory size dimana pada RTX 2060 hanya memiliki 6 GB sedangkan GTX 1070 Ti dan Radeon Vega 56 memiliki 8 GB. Tapi jika kita lihat kebawah, RTX sudah menggunakan GDDR6 sedangkan GTX 1070 Ti masih menggunakan GDDR5. Untuk Radeon Vega 56 sendiri menggunakan HBM2 yang sampai sekarang admin belum paham gimana head to headnya dengan GDDR5 atau GDDR6 jadi admin disini tidak akan membahasnya. 6 GB dan 8 GB, untuk kapasitas sepertinya untuk game-game AAA saat ini masih sangat memadai. Perbedaan mencolok adalah GGDR6 dengan GDDR5 disini. GDDR6 yang digunakan RTX 2060 memiliki memory speed 14 Gbps yang berarti 1.75 kali lebih cepat daripada GDDR5 yang digunakan pada GTX 1070 Ti yang memiliki memory speed 8 Gpbs. Dan hal ini juga berpengaruh terhadap memory bandwidth pada RTX 2060 yang menjadi lebih cepat dibandingkan dengan GTX 1070 Ti walaupun memory busnya hanya 192 bit. Memory bandwidth ini akan sangat berpengaruh saat gaming menggunakan resolusi yang tinggi seperti 4K, tapi bukan berarti gaming pada resolusi sedang seperti 1080p performanya akan letoy. Jadi bisa dipastikan bahwa performa gaming dari RTX 2060 akan lebih tinggi daripada GTX 1070 Ti jika dilihat dari spesifikasi founder edition dari kedua kartu grafis tersebut . Untuk seberapa besar perbedaan performanya belum dapat dipastikan lebih rinci karena RTX 2060 sendiri belum ada yang mereviewnya sampai tulisan ini dibuat. Sekali lagi admin tidak membahas head to head RTX 2060 dengan Radeon Vega 56 karena admin belum paham secara rinci bagaimana karakteristik dari HBM2 ini.
Lalu kita masuk ke bagian TDP. RTX 2060 hanya memiliki TDP sebesar 160W. Ini jauh lebih kecil daripada TDP GTX 1070 Ti yaitu 180W dan Radeon Vega 56 yaitu 210W. Ini bisa terjadi karena kartu grafis ini menggunakan arsitektur baru dan litografi yang lebih kecil daripada pendahulunya. TDP yang cukup rendah ini bermanfaat saat kita akan memilih PSU untuk rig kita.
So, jadi dapat kita simpulkan bahwa RTX 2060 ini bisa menjadi lawan berat GTX 1070Ti dan Radeon Vega 56 ntah dari harga, performa maupun konsumsi daya. Segitu dulu pembahasan dari admin. Dan jangan lupa pantau terus web ini untuk informasi-informasi menarik lainnya seputar dunia teknologi. See ya…
However, to start, the e-strap will also be sold as an option right out of
https://celltrackingapps.com/
the box with some select timewalker urban speed watches.